SOLAS – Container Weight Verification of rental containers
Since July 1st 2016 it has been a legal requirement for shippers to provide verification of weight for all packed containers. Since that date, it has been a violation of the SOLAS (Safety of Life at Sea) convention to load containers if the vessel operator and terminal operator do not have a verified container weight. As a container lessor you may need to provide shippers with SOLAS data for rental containers.
There are two methods for calculating the gross weight of a packed container. The first is to weigh the packed container. The second involves weighing the contents before they are packed into the container, adding the weight of an empty container and comparing to the gross weight permitted for a packed container. The gross weight, tare weight and payload are printed on the CSC plate attached to the container.
On the EQSPRO Units Screen we have added a new button labelled "Tech/SOLAS". This may be used to enter technical specifications for chassis and gensets together with a tab for SOLAS data. The SOLAS data is printed as part of the booking once rental containers have been assigned. The rental booking document can be used to inform the shipper of the gross weight, tare weight and payload for the containers released on the booking.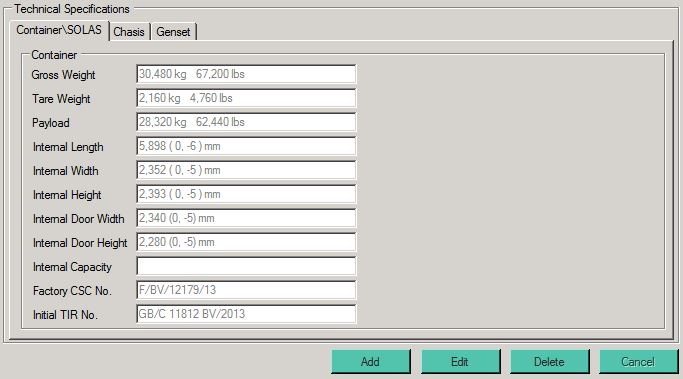 For further information about SOLAS guidelines for container weight verification download the SOLAS Container Weight Verification Requirement from The World Shipping Council or contact Support through the Help Desk https://eqspro.assist.com where we will be happy to help.